NFPA 99: Standard for Health Care Facilities, 2018 Edition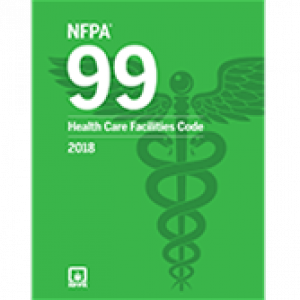 The 2018 edition of NFPA 99, Health Care Facilities Code makes performance criteria more usable, enforceable, and adoptable.
A must-have resource for everyone involved in health care safety, NFPA 99, Health Care Facilities Code provides performance criteria for health care facilities that follow a risk-based approach, where it is the risk posed to patients and staff, not the type of building, that defines safety guidelines. Provisions govern installation, inspection, testing, maintenance, performance, and safe practices for facilities, material, equipment, and appliances -- including medical gas and vacuum systems.
Major changes in the 2018 edition broaden the Code's scope and help you work more efficiently to ensure health care safety:
Requirements addressing the risk assessment in Chapter 4 have been revised to clarify the responsibility for conducting a risk assessment and determining risk categories.
Chapter 5 includes requirements that now allow for the use of oxygen concentrators as central supply sources for piped medical gas systems.
Corrugated medical tubing is now a permitted material for medical gas and vacuum systems.
Chapter 6 is completely reorganized to group related requirements, allowing for the deletion of duplicated requirements for different types of EES.
Chapter 7 now includes requirements for wireless phone and paging integration as well as for clinical information systems.
Chapter 14 compiles all of the requirements for inspection, testing, and maintenance for hyperbaric facilities into one section.
A new Chapter 15, Dental Gas and Vacuum Piping Systems is dedicated to the application of piped gas and vacuum systems for these systems that do not always readily fall under the requirements for medical gas and vacuum as addressed in Chapter 5.
Requirements for fire extinguisher selection are included in Chapter 16 for spaces unique to health care facilities.
Keep health care facilities up-to-code and patients and staff safe.
Update now. NFPA 99 users include contractors, engineers, facility managers, AHJs, plumbers, gas and vacuum system installers, security personnel, insurance companies, and manufacturers. (Print, 207 pp., 2018)
2015 Edition
Building on its successful risk-based approach, the 2015 edition of NFPA 99, Health Care Facilities Code improves usability for better health care safety.
Applies to these State Exams: