Utah Construction Business & Law, 1st Edition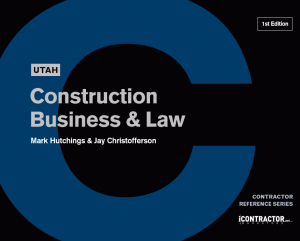 Construction Business & Law is for entreprenurs dreaming of starting up in Utah. This blueprint for implementing sound business principles outlines the three major taks of successful companies: getting the work (marketing); doing the work (production); and accounting for the work (managing the company). Authors Jay Christofferson and Mark Hutchings, who teach construction management at Brigham Young University, are well-respected in the industry, cover each step in straightforward language.
The first section details how to set up a construction company in Utah, including legal requirements, organizational issues, planning, accounting priciples and financial controls, and insurance issues;
The second section deals with marketing and busines development, including marketing and sales and estimating and biding principles.
The third section addresses production issues, including project management, trade relations, scheduling, customer relations, and safety plans.
The fourth section includes the full text of the current Utah state regulations affecting the construction industry as of the publiction date. It is provided in an easy to read format, with a convenient thumb index for easy reference.
| | |
| --- | --- |
| ISBN | 978-1-947827-00-4 |
| Publication Year | 2018 |
| Publisher | iContractor.net |
| Author | Mark Hutchings & Jay Christofferson |
Applies to these State Exams: